Vicpas VPS214190W5W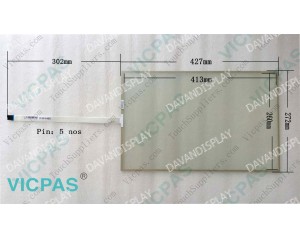 Manufacturer:
Vicpas
Model:
VPS214190W5W
6AV7466-2TA17-0AA0 Touch Glass
Price:
$429.00

(Qty. 1)
Stock
Volume Pricing
All volume pricing is FOB Indiana, USA.
Contact us for prepaid, FOB origin or larger volume pricing.
Order:

Vicpas 19.0" VPS214190W5W touch glass. Alternate for SCN-AT-FLT19.0-Z11-0H1-R E165122. Overall size 427mm x 272 mm. Active area 413mm x 260mm. Known to be used in Philips MX800 Patient Monitor 453564204621 and  with TT11350A90H Touch Glass with tail extender required. Also can be used in Siemens 6AV7466-2TA17-0AA0 HMI SCD1900. 
Additional Information
Common Applications
Philips MX800
Siemens SCD1900
Application Part Numbers
453564204621
6AV7466-2TA17-0AA0
Short Description
Touch Glass